About this Course
Ready to try strength training or get back into it after taking a break? Short on time and have difficulty fitting it all in? Try our NEW program and SPRING back into shape- just 20 minutes a day.
Coming March 15th. A NEW strength training program…TONE in 20. This Virtual program includes:
Eight, 20 minute strength training videos:

Chest
Back
Biceps
Triceps
Shoulders
Lower Body
HIIT and Abs
Yoga

An 8-minute full-body warm-up video
A 45 minute, no-repeat, full-body, HIIT mashup video
Access to a trainer throughout the program to share fitness goals, ask questions, get feedback.
About the Instructor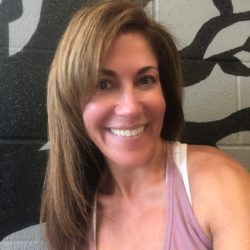 Hi, I'm Trish LaGrua and I am the proud owner of Phoenix Fitness and Yoga. Physical fitness has been my passion since I was about 15 years old when I began strength training in my family's garage. Although I received a Master's Degree in Social Work and worked in the mental health field for over a decade, I eventually followed my passion and became AFAA certified in group fitness and personal training in 2005. I went on to pursue my yoga training and am now an E-500 RYT (registered yoga teacher).
I have directed group fitness programs and have led fitness and yoga classes at numerous fitness facilities in the area over the past 15 years. I love life and all it has to offer; as I know it is all part of the journey. I live in Waynesboro with my loving husband, three amazing sons, my adorable Cockapoo, and my fun-loving Labradoodle. Opening a studio of my own, and bringing yoga and fitness to others has always been a dream of mine. I am now thrilled to be offering on demand options as well!