About this Course
This is a virtual, pre-recorded workout program. This program helps you increase strength, improve cardio vascular endurance, burn calories, and lose body fat. You can embrace this as a 28 day challenge and complete one workout per day, or take time in between days if needed, depending on your fitness level. However, consistency with the program is highly encouraged.
The program includes the following:
29 workout videos that include strength training, HIIT, and yoga.
A 7 minute warm up video
A demo video of the exercises included in the program
Access to a trainer throughout the program to share fitness goals, ask questions, get feedback
Option to meet in person, with your instructor for assessment at the start and end of the program (weight, measurements, BMI, body fat %, etc).
About the Instructor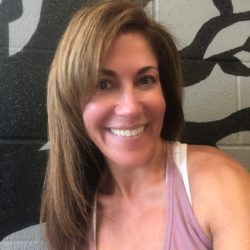 My name is Trish LaGrua and I am the proud owner of Phoenix Fitness and Yoga. Physical fitness has been my passion since I was about 15 years old when I began strength training in my family's garage. Although I received a Master's Degree in Social Work and worked in the mental health field for over a decade, I eventually followed my passion and became AFAA certified in group fitness and personal training in 2005. I went on to pursue my yoga training and am now an E-500 RYT (registered yoga teacher).
I have directed group fitness programs and have led fitness and yoga classes at numerous fitness facilities in the area over the past 15 years. I love life and all it has to offer; as I know it is all part of the journey. I live in Waynesboro with my loving husband, three amazing sons, my adorable Cockapoo, and my fun-loving Labradoodle. Opening a studio of my own, and bringing yoga and fitness to others has always been a dream of mine. I am now thrilled to be offering on demand options as well!